Procedures involved in dental implants
---
There are many different implant systems available and when competently used they can all deliver a highly reliable form of treatment. A dental implant is essentially a substitute for a natural root and commonly it is screw or cylinder shaped. Each implant is placed into a socket carefully drilled at the precise location of the intended tooth. If an implant has a screw-thread on its outer surface it can be screwed into position and if it does not, it is usually tapped into place. The main aim during installation of any implant is to achieve immediate close contact with the surrounding bone. This creates an initial stability, which over time is steadily enhanced by further growth of bone into microscopic roughnesses on the implant surface. In order to support replacement teeth, dental implants normally have some form of internal screw thread or post space that allows a variety of components to be fitted. Once fitted, these components provide the foundation for long-term support of crowns, bridges or dentures.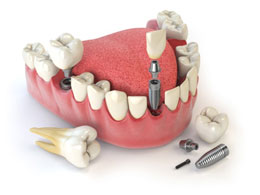 The implant treatment is performed as planned depending upon the oral hygiene and existing condition as follows:
One stage implant – The implant is placed into a new, healing or healed extraction site and is visible above the gum immediately after placement. The advantage of this method is that a second surgical stage is not necessary to expose the implant. The implant will not normally be ready to support a tooth for several weeks or months.
Two stage implant – The implant is placed into a new, healing or healed extraction site and then covered by a layer of gum so that it cannot be seen – this is the first stage. At the second stage some weeks or months later, the implant is uncovered and components added bringing it above the gum ready to begin placing a new tooth.
Same day implants –This technique is most often used to treat the lower jaw and requires considerable planning before the actual day of surgery. Several implants are installed and a few hours later a complete arch of temporary or permanent teeth can be fixed in place. If temporary teeth are used these will normally be replaced with a permanent bridge after a suitable healing interval. Not all patients are suitable for this style of treatment.
Immediate implant – For this technique a tooth is removed and an implant placed immediately into the extraction site. Depending upon the local bone and soft tissue conditions, the implant surgery may be a one or two stage procedure. Not all patients are suitable for this approach.
Onlay grafting – There are many ways in which bone can be added to; however, one simple concept is to take a piece of bone from somewhere else and secure it as an 'onlay graft' to a deficient area. The new piece of bone will slowly join to the underlying region and when healed and mature, an implant can be placed in a more favourable position.
An expert should require to perform this procedure and Dr.P. Ranjit Kumar, best dentist in Guntur, who is having an excellent successful record in dental implant treatments in Guntur will help you in all dental related problems. For further details, please get in touch with Confydentz Dental Hospital, best dental clinics in Guntur.