YOUR CHILDREN'S DENTIST IN GUNTUR
---
A TRULY COMPREHENSIVE PEDIATRIC DENTIST IN GUNTUR
(Your child's dental health is important to us) Confydentz Dental Hospital is a destination which offers services focused on specific needs of children. Pediatric care is not something general dentists can offer – and by bringing this dedicated service in-house it has been designed with children in mind and every little detail comes together to ensure that Confydentz dental hospital,best dental clinic in Gunturis a place where children feel at home. It is one of few practices that can say they offer truly comprehensive pediatric dentistry.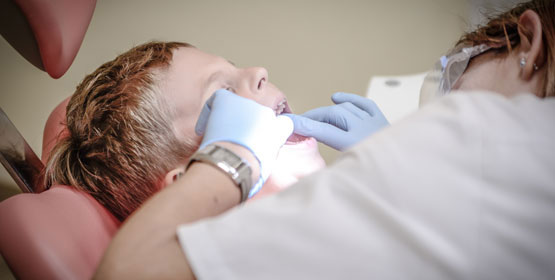 Based in Guntur and accessible from nearby commuter towns and villages, Confydentz dental,best children's dental hospital is putting Children dentistry on the Andhra Pradesh map. We've brought an unsurpassed wealth of multidisciplinary expertise under one roof to offer world-class, pain-free dental care using state-of-the-art technology. Not that your kids will notice – because with our enthralling, spacious, age-zoned waiting areas, visiting the dentist becomes an event they'll look forward to, every time.
Our Pediatric Dental Care has a long history of excellence in providing specialist dental care for children. Our specialists have pursued advanced training and attained higher qualifications in pediatric dentistry, aiming to provide the highest quality of care, with its main focus on prevention. They are passionate about helping their patients maintain healthy smiles that last a lifetime. All treatments are carried out using fully-sterilized instruments in fully modernized and hygienic surgeries which are tranquil and child-friendly.
Pediatric treatments that we offer include
Fissure sealants are plastic coatings that are painted on to the grooves of the back teeth that form a protective layer that keeps food and bacteria from getting stuck in the tiny grooves in the teeth and causing decay. It is the safe and effective way to prevent kids from getting cavities.
Restorations: When a child is diagnosed with tooth decay, the decay must be removed and the tooth restored. Depending on the size of the defect, the treatment usually involves the placement of a filling. At our clinic we only use the newest materials such as Composer or Composite (white filling material) and work with Rubber dam (an elastic piece of rubber stretched over the tooth during treatment to isolate the tooth from its environment – in particular from bacteria in the oral cavity), this will enhance the treatment quality.
Crowns: Some cavities in children's teeth are too large or too deep, and a simple filling will no longer be sufficiently effective. In these cases, a children's crown can be used, which are pre‐made and designed to cover the entire tooth. The silver crowns are made of stainless steel and the white of zirconia ceramic. A crown will protect the deciduous tooth and root, until it is naturally lost.
Pulpotomy: The first treatment decision in young patients with one or more badly decayed teeth is whether to retain or extract these teeth. In most cases primary teeth can be saved by performing a pulpotomy, a method which removes the infected nerve tissue in the crown of the tooth, while the nerve in the root of the tooth remains vital. After this procedure, the tooth will need some structural support and a tight cover that protects the tooth from bacteria. This is achieved by using a crown. These will be cemented onto the tooth and remain until the tooth will naturally exfoliate. They can be fitted in a single appointment as they are pre-manufactured and can be amended and shaped to ensure a tight fit.
Extractions: Our main aim is to save primary teeth whenever possible, but there are occasions when an extraction may be necessary.
Space maintainers: The primary molars maintain the space for the permanent teeth. If a primary molar is lost prematurely, fixed or removable space maintainers can take over this important function.
Fixed space maintainer: A fixed space maintainer is made of non‐allergic stainless steel and permanently attached to the neighboring teeth. Once the permanent tooth grows into the space, the maintainer will be removed.
Removable space maintainer: A removable space maintainer should be worn at least 14 hrs (mostly during the night). Following the extraction, an impression will be taken and sent to a dental laboratory. The removable space maintainer will be custom made and your child will be able to choose a color. If desired, a false tooth can be added (aesthetic space maintainer).
Pediatric prostheses: Sometimes children lose more than just one of their teeth due to an accident, sickness or caries. If this creates a psychological problem a pediatric prostheses is a good option to help your child to regain the ability to chew, bite, and smile as normal.
Mouth guards: To avoid long-term damage caused by sports injuries, it is important to wear a professionally made mouth guard during any sports activity that involves physical contact or moving objects, like cricket, hockey, football, boxing and rugby. A mouth guard will decrease the risk of damaging / breaking teeth and reduce the danger of dislocating the jaw. They are rubber‐like and custom made to fit exactly over the teeth and gums. This ensures teeth are cushioned and protected.
We want children to experience pain-free dentistry so we offer treatment methods like local anesthesia ,Hypnosis& hypnotherapy, Inhalation sedation and Intravenous sedation to calm your child and reduce his/her anxiety so that he/she is able to co-operate with the treatment. Though we offer sedation, we prefer not to use it until it is absolutely necessary. We believe that a relaxing atmosphere, fun environment and sufficient time to get comfortable with the dental team and the surroundings can replace sedation in many cases. During your initial consultation you will have the opportunity to decide which dentist will be the best fit for your child.