Dental Implant Treatments
Loss of teeth for any reason, especially before sixties not only effects the health condition but also changes the facial shape of individuals. Missing teeth effects the ability to a enjoy range of foods along with hindering your speech. It shatters confidence to speak and smile.
Thankfully, dental implant is a revolution and great relief for guys with premature tooth loss. Now tooth restoration is possible through dental implant and is a widely accepted treatment all over world. Have you lost your tooth for any reasons? Go for the best Dental clinic in Guntur for best dental implant to avoid hassles of taking treatments from inefficient dentists. Have a look at the types of dental implants treatment available at the best dental hospitals in Guntur.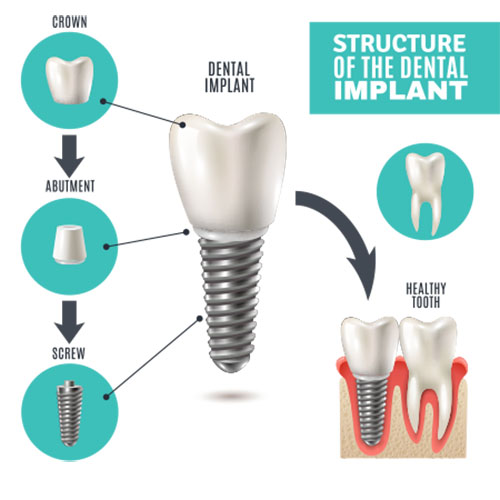 Types of dental implant treatments
An Endosteal implant: It involves implantation directly into jaw bones through surgery. Second surgery is conducted after original implant after the healing of gum tissue is accomplished. An artificial tooth is attached individually or grouped on a denture or bridge.
Subperiosteal implants: It comprises of metal frame placed onto jawbone right under the tissues of gums. Teeth are afterwards attached to the frames followed by procedure similar to endosteal implants, teeth are then placed to the posts.
Above are the two implant treatments considered safe by the American Dental Association. However in India, along with the above two, strategic implants are highly practised because of being safe and fast procedure involved in it. Take an appointment with the finest and qualified dentist in Guntur for the best teeth implant.
Strategic Implants
Strategic Implants are most recent and best technology based dental implants offering more advantages to the patients on being compared to conventional type of dental implant. In strategic implant, no bone augmentation is required and patient does not have to wait for long after extraction of the tooth.This involves immediate implant of tooth after extraction. This type of implant consumes less time and involves use of ace techniques for it. If you are looking for painless and successful tooth implant, consult the best dentists in Guntur.
Strategic Implant is based on immediate loading Implantology that confirms better results over the conventional dental implants.
Reasons for it being the best implant treatment:
It doesn't involve Bone augmentation.
Strategic implant is rooted only in the cortical bone areas and is the reason that implants can be done immediately.
Implants can be placed right after the extraction of the tooth, even if there are any kind of periodontal infections.
Patient need not to wait for heeling and gets over in 72 hours after the fixing of tooth.
In case of complications, strategic implants can be replaced or removed very easily.
The chances of infections are nil in strategic implant.
Why people must visit Dr Ranjit Kumar?
Dr Ranjit Kumar, Education & Qualification:
Dr Ranjit Kumar, the Dentist in Guntur is an expert Dental & Maxillofacial Surgeon & Internationally Certified Implantologist practising dentistry from the past 17 years. He is also the Managing Director of Confydentz® dental hospital in Guntur. His area of expertise involves Dental Implantology, Maxillofacial trauma and Jaw corrective Surgeries. He offers Full mouth dental implant in Guntur and individual dental implant in Guntur with the aid of latest techniques at highly reasonable prices.