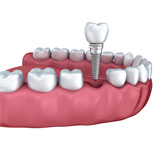 Single tooth Replacement
Dental implants make it possible to replace a single missing tooth without compromising adjacent natural teeth.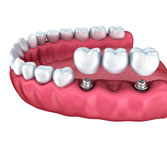 Multiple teeth Replacement
Multiple teeth also can be replaced without grinding down the adjacent tooth.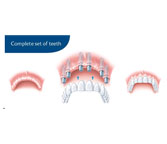 Complete set of teeth can be replaced with dental Implants
If all the teeth are missing, an implant-supported full bridge or full denture can replace them.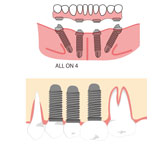 All on 4 Implants technique for full mouth rehabilitation
his is the latest advancement in Implant dentistry wherein full mouth rehabilitation is done with just 4 implants in each arch unlike 6 to 8 implants that are needed conventionally.
Single tooth replacement with Dental Implant:
Dental Implant could be an ideal option when you have a single missing tooth. Dental implant replaces a missing tooth without damaging the adjacent tooth unlike in crowns & bridges. The Dental implant also replaces the root of the tooth, thereby preserving the bone.
Steps involved in replacing a missing tooth with Dental Implant:
Step 1: Placement of Dental Implant in the edentulous region
The Dental Implant is left for about 3 to 6 months & allowed to heal and bond to the bone. Meanwhile a temporary crown can be given to fill the gap of the missing tooth
Step 2: During the second stage, a healing cap is placed to facilitate the gum to grow & heal around the Implant. The healing cap is left in place for a period of 1 to 2 weeks. Few single piece implants do not need a healing cap.
Step 3: Then a permanent crown is fabricated and either cemented or screwed over a metal post called as Abutment.
Finally you will restore your smile & function which enhances your smile & function.
Multiple Teeth Replacement With Dental Implants:
There are various options for replacing multiple missing teeth.
Removable partial dentures
Fixed partial dentures (Crowns & Bridges)
Implant Supported dentures.
In a condition such as this shown in the pic, when the posterior teeth are missing, the ideal treatment option is Implant supported bridge.
Step 1: Dental Implants Placed on the ridge
Step 2: Healing cap placed for Gums to form around the implants
Step 3: Crowns fixed to the Implants
All on 4 Concept:
It's an Immediate Functional Dental Implant Procedure
The All-on-4 treatment concept derived its name based on using 4 titanium implants for supporting the dental prosthesis of twelve teeth.
In 1998 Dr. Paulo Malo is the pioneer in treating the patients with All-on-4 concept.
The All-on-4 concept is a cost-efficient, graft less procedure and can be used for immediate function.
All on 6 Implants:
It is also an Immediate Functional Dental Implant Procedure for patients with enough bone structure in the jaw.
The variation of All-on-4 is All-on-6 technique which is based on the same concept but six implants are used instead of four that are placed in areas of mouth where the bone volume is highest. For patients with enough bone structure, this treatment is designed. As it maximizes the bone potential, it is used as an alternative to traditional dental implants.
Dental implants are not only used to replace individual teeth, but also used as an anchor to the existing or new denture.
As the teeth are missing in the jaw, the bone loss can become worse, which also may bring some issues to the patients such as problems while speaking and eating, gum irritation and more, implants can prevent this bone loss.
Immediate Dental Implants
Immediately after extraction of a tooth dental implant is placed in the jaw bone which is called immediate dental implant. For replacing missing teeth especially for front teeth immediate implants are gaining popularity. It can be done on the same visit of extraction or can be placed within two weeks and still considered as immediate implant. It is considered as immediate loading if dental bridge or crown is placed on the immediate implant. The most favorable option for any patient is immediate loading of immediate dental implant.