| Implant Make | | Cost in Rupees(Per Implant) |
| --- | --- | --- |
| Myraid (Equinox Implants) | | Rs 31,200/- |
| Adin Implants | | Rs 31,200/- |
| Alpha Biotec | | Rs 34,800/- |
| Ostem Implants | | Rs 45,600/- |
| Nobel biocare (Replace select) | | Rs 45,600/- |
| Nobel Biocare (Active) | | Rs 54,000/- |
| Implant crown (PFM/metal ceramic) | | Rs 8400/- |
The Cost of Dental Implants – Are they really worth the Time & Money?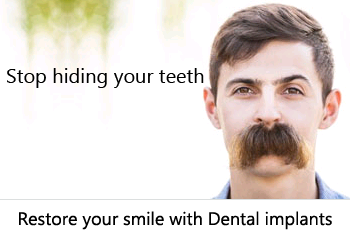 If you've ever lost a tooth, then dental implants are an excellent option to replace with. If you have lost teeth recently, you will find it very difficult to chew food correctly, and this might cause nutritional problems. Lost teeth can also affect your appearance making implants all way to go. Implants are no more new development in the field of dentistry. However, they are very useful in restoring not only the functionality of lost teeth but also the appearance. For this reason, they are very popular. Millions of people across the globe have undergone dental implant surgery, but many people are still routing to, but the cost is not pocket-friendly for many. Have you been asking the question, "Why are dental implants so expensive?" In this article, we are going to answer your question. You might sure have a limited budget when it comes to dental implants, but there are quite a lot of fees piling on in its price. The cost of Dental Implants depends on various factors. Read on…
1. Cost of Professional's Time
One of the biggest costs that come into play when trying to get dental implants is payment of professionals that are working on your case. If you want someone that is an expert to do your work you are going to have to pay the price; just as the saying goes "nothing good comes easy or free." You don't want anyone slacking on your treatment as it's a team work, so many people have to work on implants for your mouth so that they can be put in correctly, function properly and also looks great.
2. Material Cost
Depending on the type of implant that you are getting placed the cost of materials can vary. The reason is that many popular implants systems are available in the market (For eg: Nobel Biocare, Bio Horizon etc are on higher side & Adin, Equinox etc on Lower end) . All of them serve the same purpose, however the cost varies because of the quality, warranty & the amount research spent on them). Also, because implants will be your mouth for life or a very long time it is advisable that you choose the best of the best in your mouth. However there are many affordable dental implants available which offer the same quality. Our Implantologist , Dr Ranjit would choose the best for you depending on your budget not compromising on the quality during your consultation with him.
3. Qualifying and Preparing
Before you can get a tooth implant, many things need to be looked into. Some of these things are x-rays, possibly a CT scan and many more. These tests are just another reason you may find yourself dealing with high costs because they are sometimes expensive. These are expenses to the provider, and you cannot expect them to take a loss in profit.
4. Additional Procedures
You may have to pay even more money than you had expected to pay if your treatment requires that you have to undergo additional procedures such as Bone grafting, Sinus Lifts etc. This could be frustrating, but you want to make sure that your implant placement is successful; you don't want yourself in a situation where you will regularly be coming after having things fixed.
5. The kind of teeth to be replaced
Also you need to know that the cost will also depend on the type of teeth you want to replace; a front tooth implant price is usually higher than molar implant while a back tooth implant will be less costly than a front tooth one.
6. The Expertise of the Dental Surgeon
Last but not the least, the expertise of the Dental Surgeon comes with his/her experience & qualifications which plays a significant role in the outcome of the Dental Implants longevity. Our Implantologist, Dr Ranjit Kumar P is an Oral & Maxillofacial Surgeon with 15yrs of experience , Internationally qualified in Implantology. He is Fellow of International Congress of Oral Implantology (FICOI).
It is not that cheap to replace teeth, but if a person gets implants, they can eat and talk without having swollen gums or the discomfort that generally comes with having dentures. Paying for implants is more than an expense, it is an investment. With advances in technology many Inexpensive Dental Implants are also available which serve the purpose. You can consult Dr Ranjit for the same at Confydentz Dental Hospital